Welcome to the Bristol French Circle!
The Bristol French Circle is for all those who enjoy speaking and listening to French. Please see the News section further down this page for details of what we're doing during this time of lockdown.
Founded in 1905, the Circle is affiliated to the Alliance Française which provides us with financial support.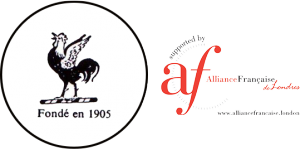 We meet at BAWA on alternate Thursdays from October to May each year. Our programme is very varied and we have French speakers on a wide range of subjects (including art, music, geography, culture and society), informal conversation evenings, a literary discussion and a 'café-concert' – an evening of poetry and music presented by our members.
Outside the programme, we enjoy dinners in local restaurants in Bristol and trips to see French films.
The main event of each evening starts at 8pm, with the announcement of information about the weeks to come at about 7.55pm, and we encourage members and visitors to come along from 7.30pm to have a chat before the start of the talk or other activity. On the dates when there is a speaker, shown in the programme by an asterisk *, Charlotte will do a 'petit cours', starting at 7pm, looking at vocabulary, idioms and the odd grammar point – we always start off with a Garfield cartoon (in French) as this cat can teach us many things about philosophy and the French language!
Do have a look at the 'Why join?' tab to see members' comments about the Circle – and come and join us if you enjoy this lovely language! Our FAQ (Frequently asked questions) may help you too.
Please don't worry if your school French lessons seem a long time ago or you feel very rusty – there is absolutely no minimum level of language proficiency required and you are assured of a warm welcome. If you have any questions or hesitations, do get in touch with Charlotte, the President of the Circle by email (charlottejanetaylor10@gmail.com) or by phone (07976 922636) – she will be delighted to have a chat with you.